#1 Springfield Concrete Contractors – 4.9 Star Rating Over Hundreds of Beloved Customers! Fill in the Form for a 100% Free On-Site Visit.
Call Now:
217-773-5133
#1 Springfield Concrete Contractors IL
Providing The Best Concrete Services of the Springfield, IL and Sangamon County Area!
How to Get a Free Quote:
Step 1: Fill in Form or Call 217-773-5133
Step 2: Submit Form
Step 3: Receive Free Quote Fast!
Only Takes 20 Seconds!
You Have Nothing to Lose By Filling the Form!
Over 10+ Years of Experience in The Concrete Business.
Featured
On

:
Call Now:
217-773-5133
#1 Springfield Concrete Contractors Illinoise | Residential & Commercial Concrete Services
Imagine a regal, winding concrete walkway welcoming your guests as it connects the sidewalk with your home's entrance. With Springfield's diverse landscape and design aesthetics, a well-crafted walkway can not only elevate your property's curb appeal but also create an enticing atmosphere leading to your front door.
Our highly skilled team of experts thoughtfully considers the slope and contour of your property, ensuring that when it rains, water drains properly so no pooling occurs. This keeps your concrete sidewalk level and in pristine condition throughout the years. We pay meticulous attention to detail during each step of the installation process: forming, pouring, and finishing for a flawlessly beautiful outcome.
Here's a big list of the type of concrete services we offer (but not limited to):
Driveways
Sidewalks
Walkways
Floors
Concrete Slabs
Concrete Foundations
Stamped Concrete
Stained Concrete
Concrete Steps
Garage / Shed Concrete Slab Contractor​
Designed & Decorative Concrete
Countertops
Retaining Wall​
Patios
Pool Deck
Repairs
Parking Lots
Concrete Retaining Walls
And More!
If something is not on the list, then just please ask us!
Artistic Possibilities for Your Walkway or Sidewalk: A Comprehensive Guide
With infinite creative options at hand, designing the perfect walkway is effortless in Springfield. You can choose from various styles such as:
Stamped Walkways – Combining patterned imprints with colored tints offers a visually stunning yet practical surface.

Stained Walkways – Achieve awe-inspiring bursts of color through advanced staining techniques that give durable finishes with lasting vibrancy.

Flagstone – A timeless look created by assembling flat stones into intricate mosaic patterns lends rustic charm.

Cobblestone – Hearkening back to old-world European streets, cobblestone replicas create a resilient pathway around any residence or commercial space.

Pavers – Prefabricated shapes fit together seamlessly to deliver an aesthetically pleasing walkway that helps mitigate water runoff.
Whether you desire a classic cement pour or crave a natural concrete look resembling stone textures or aged patina, numerous designs await personalization. Our expert artisans can help you create intricate details such as engraved quotes, logo imprints or even unique patterns inspired by modern art styles—so don't hesitate to think outside the box!
Pro Tip:
Combine various decorative techniques like stamped patterns and stained colors to create a truly one-of-a-kind walkway. For instance, experiment with ombre color transitions or explore geometric themes for an eye-catching result.
Please give us a call! We want to help!
Call Now:
217-773-5133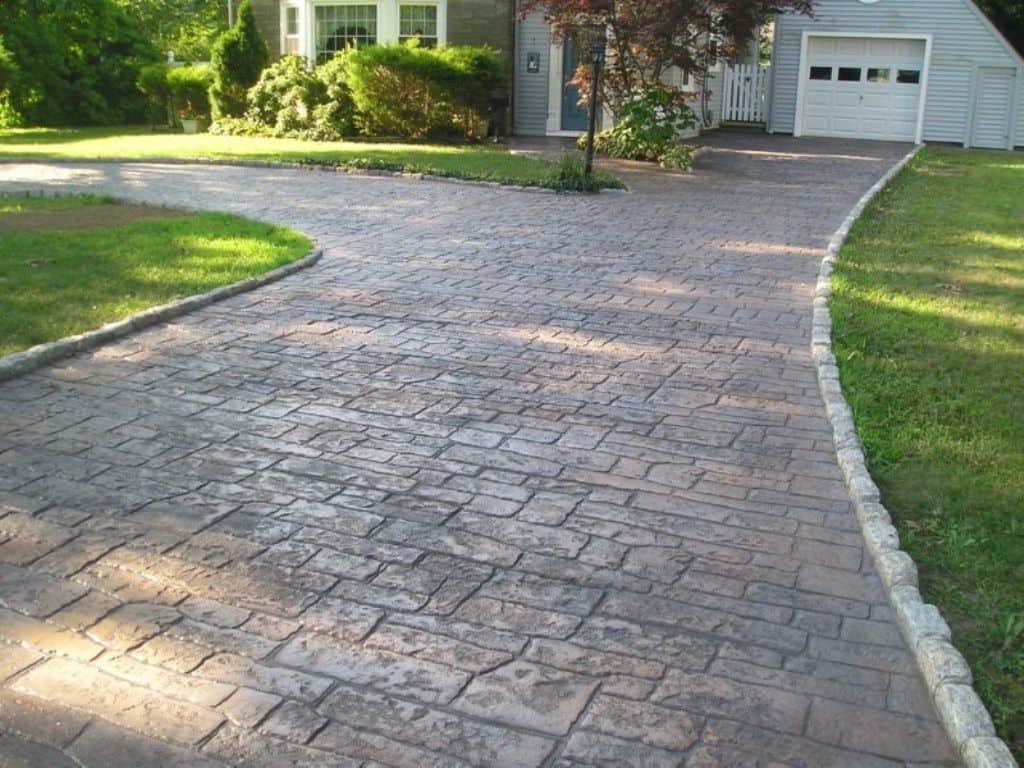 Call Now:
217-773-5133
About us
10+ years of construction experience and expertise.
Prepared to be Amazed at our Work.
Our Concrete Contractors in Springfield, IL have dedicated thousands of hours in mastering our craft!
We live, breathe and eat (okay maybe not eat) concrete and construction! We dream about concrete in our sleep and come up with ways on how we can improve even further! So you can be assured that your project is in good hands.
We are a local, family owned business and we have built our company with a prime focus on quality and customer first!
If you're not satisfied in any way, then please, please let us know and we'll make it right with you!
Compared to other concrete companies, we go above and beyond in all of our projects no matter how small it is, and we have extreme levels of attention to detail..
Whether you want decorative concrete, plain concrete, starting a new house or anything, please give us a call so we can add value to your property!
10+ years experience
World-Class Concrete Specialists
Locally Owned
Cheap & Affordable
Premium Equipment & Handling
Extremely Precise & Accurate
Decorative Concrete in Springfield IL
Springfield homeowners seeking exquisite stamped concrete have come to the right place! Our esteemed services offer an extensive selection of patterns and decorative elements tailored to each customer's unique requirements. With hundreds of designs at your disposal and our expert guidance, you will surely find a look that complements your property's style.
We understand that creating something extraordinary involves more than replicating designs found in catalogs—our craftsmen possess years of experience pushing this versatile material's boundaries. We are confident in our ability to deliver exceptional artistry and precise craftsmanship that withstand the test of time while consistently surprising even the most discerning clients.
With its uncanny resemblance to other materials such as brick, natural stone, or even hardwood, stamped concrete offers incredible longevity without constant maintenance—making it perfect for busy households or public areas where appearance matters but upkeep remains a concern.
Did You Know?
Stamped concrete is also environmentally friendly because it reduces deforestation by mimicking natural textures like wood grain without using actual timber resources. Plus, the highly efficient installation process minimizes energy consumption through resourcefulness and streamlined techniques.
In addition to walkways around residential properties, stamped concrete is perfect for commercial sidewalks leading to grand entrances or winding paths throughout public parks due to its capability of supporting heavy foot traffic over extended periods.
Functionality meets beauty consistently when utilizing stamped concrete; some popular applications include:
Driveways

Floors (indoors & outdoors)

Patios

Pool Decks

Steps & Staircases

Landscape Walls (such as retaining walls)
Whenever aesthetics are paramount yet durability can't be compromised, consider using stamped concrete in Springfield for your project. Our expert team has the artistic vision and technical know-how to bring your dreams into reality—elegantly blending function with beauty!
Call: 217-773-5133
Call Now:
217-773-5133
Stained Concrete
Gone are the days when concrete surfaces were defined solely by their iconic gray hue. Today's cutting-edge staining technology allows for virtually limitless options in terms of color, patterns, and coatings. Through the expert application of water and acid-based chemical stains or durable tinted sealers, any outdoor space can receive an intoxicating burst of color that elevates surrounding landscapes.
Transforming a traditional driveway—either existing or newly constructed—into an eye-catching masterpiece has never been easier. In just a few steps, our skilled artisans combine creative designs with popping pigments to create striking stained concrete pathways guaranteed to impress passersby and visiting guests alike!
Stained concrete delivers a visually stunning effect through vibrant colors that enliven any area. Our proven process involves powerful pressurization techniques that remove dirt, dust, and other contaminants from surfaces before employing specialized cleaners fortified with degreasing agents that eliminate oily residues and stubborn marks such as paint or rust.
To ensure flawless results during the staining process, we carefully protect surrounding areas using paper borders or masked tape—thus avoiding unintended smears on adjacent structures like walls or shrubs.
The possibilities are nearly infinite when it comes to transforming barren expanses into breathtaking masterpieces incorporating various staining methods from reactive chemistry (such as acid staining)to non-reactive topical solutions to achieve rich hues capable of enduring harsh weather conditions typical throughout Springfield's geographical terrain.
Why settle for bland gray slabs when you can select from a wide palette embracing everything from warm terra cotta tones mirroring Southwestern themes to cool blues reminiscent of Caribbean shores? Reach out now for personalized advice on how best to renew your property through innovative stained concrete techniques!
Call: 217-773-5133
Call Now:
217-773-5133
Patio Perfection, Luxurious Lanais, Phenomenal Porches, and Pristine Pool Decks
For complete renovations or resurfacing solutions that elevate pre-existing cement projects throughout Springfield, our expert team is ready to make your dreams come true on any scale—be it single-family homes, apartment complexes or commercial establishments such as restaurants or hotels.
Our impressive portfolio includes countless satisfied clients presenting concrete masterpieces ranging from classically inspired Romanesque courtyards adorned with statuesque fountains to sleek modern pool decks boasting award-winning designs true architectural achievements.
With seemingly endless combinations at hand involving various finishes (stamped, stained), textures (smooth polished or roughened aggregate) as well as geometric patterns (symmetrical repeated shapes versus free-flowing organic contours), we guarantee there's an ideal option waiting just for you within our extensive practical yet beautiful collection!
So, whether you're interested in creating a brand new outdoor oasis or seeking to refurbish an older one, our dedicated team of Springfield experts is eager to work closely with you through each step of the journey—carefully conceptualizing and executing unique visions that elegantly blur the lines between fantasy and concrete realities.
Call: 217-773-5133
Achieving Awe-Inspiring Results With Stamped Concrete Patios
There's no denying the impact an exquisitely crafted stamped concrete patio can have on any outdoor area. With its strong and durable composition, we can effortlessly emulate a wide range of materials such as granite or slate while offering all the benefits inherent to cement surfaces like reduced maintenance needs and impressive longevity.
But why stop at patios? Stamped concrete designs are also perfect for enhancing pool decks, walkways along garden paths, driveways leading to grand entrances—or any other surface intended to create lasting impressions on guests.
Each stamped project begins with your unique vision; our talented design consultants will collaborate with you in selecting appropriate colors, patterns or themes before breaking ground on transforming ideas into vibrant realities right before your eyes!
Concrete Restoration Services: Repair And Refurbishment
Although known for its strength and reliability, even expertly laid concrete may eventually succumb to wear and tear over time. Harsh weather cycles combined with heavy usage can damage surfaces resulting in fading, cracks, pooling or various forms of structural deterioration. Enter our Springfield-based company—renowned for expertly repairing damaged slabs while effectively restoring their original beauty by employing years of honed techniques handed down from generations past!
At Springfield Concrete Contractors, we never compromise on quality nor rest until surfaces appear practically indistinguishable from their brand-new counterparts—a challenging feat many competitors simply cannot match due to lackluster materials or hurried completion schedules encouraged by rampant industry corner-cutting practices commonplace throughout less reputable enterprises. We understand what's at stake concerning home value appreciation as well as overall property enjoyment; that's why we treat every repair job as if it were being performed within our own cherished personal spaces, leaving nothing to chance or in compromised carelessness.
Our professionally trained team of experts scrutinize minute details such as type and color matching original materials, incorporating personalized accents like decorative masonry inlays in addition to correctly sealing final projects using proven long-lasting solutions guaranteed to stand up against even the harshest elements Springfield has to offer. We passionately believe in handling all aspects of the repair process from start to finish—and cutting corners is simply not an option when it comes to something this important!
So next time you notice damage accumulating on your concrete patio, walkway, driveway or any other area around your home, don't despair—our talented professionals are standing by ready and eager for action! One quick call is all it takes before we swiftly mobilize resources needed towards achieving renewed surface perfection that's virtually identical in look and feel compared with recently installed counterparts. We can handle everything from minor crack repairs all the way through massive slab replacements featuring state-of-the-art equipment capable of complete precision execution.
Garage Foundations & Shed Slabs
For Springfield residents needing garage installations or shed slabs for extra storage space, our specialized concrete slab services provide quick on-site estimates at no cost. Our experts are well-acquainted with local building codes and zoning regulations, ensuring timely project completion while adhering precisely to budgetary guidelines set forth during initial consultations regarding foundation specifications including dimensions, thicknesses as well as required reinforcement components involving rebar placement schedules designed for guaranteeing peak structural performance throughout seasonal weather changes impacting regional temperature fluctuations along with seismic activity concerns.
We prioritize creating exceptionally durable foundations due to their importance concerning long-term success regarding vertical construction endeavors such as framing plus finishing phases inevitably affected by base-level accuracy affecting measurement variances culminating directly proportionately upward across entire structures eventually shaping final appearances. Thus, settling for mediocrity isn't an option when it comes to your new garage or shed foundation; we understand how crucial precision is and aim to exceed expectations on every project undertaken.
Reach out today for a free consultation with our experienced team of Springfield Concrete Contractors who will discuss the various options available and provide expert guidance on the best course of action to make your concrete vision come to life.
Call: 217-773-5133
Concrete Retaining Walls
Attention to Detail
Transform your outdoor space into an exquisite oasis, featuring a captivating and stylish barrier that fluidly separates distinct areas while adding a touch of visual splendor.
A concrete retaining wall goes beyond the conventional by defining various sections within your garden, leveling uneven terrain, and amplifying the overall landscape appeal. Our experts meticulously craft walls tailored to your unique needs, offering unparalleled distinction and charm for your property.
So let go of mere daydreams – collaborate with us today and bring your ideal paradise to life!
Exquisite Concrete Floors
Revitalize your home or office space with our exceptional range of cutting-edge flooring solutions, showcasing internationally recognized concrete floors and hypnotizing decorative surfaces.
Be amazed as we seamlessly transform ordinary interiors into extraordinary artistic marvels, emanating elegance, sophistication, and flawless craftsmanship. Connect with our dedicated specialists now – together, we will create magic underfoot!
Call: 217-773-5133
Concrete Steps in Springfield IL
When it comes to installing or renovating residential and commercial concrete steps throughout Springfield, we will replace aging staircases with secure, visually appealing alternatives that flawlessly combine function and grace, ensuring all visitors relish their comfort and safety as they ascend or descend each step. Partner with us to give your property a truly elevated sense of style.
Call: 217-773-5133
Customizable ​Concrete Countertops
Seeking the perfect countertop solution blending durability, flair, and adaptability? Search no more — discover the world of customizable concrete countertops! With boundless options available for you to tap into your creativity; these trendsetting surfaces can effortlessly mimic marble, granite or any other desired material creating a luxurious ambiance in kitchens or living spaces alike. Infuse any room with fresh inspiration – consult us today!
Parking Lots Transformed
Say farewell to bad parking lots riddled by cracks and potholes; instead embrace the prospect of sleek, modern parking havens overflowing with ample spaces. Our proficient team will expertly navigate every stage of the project from demolition to pouring fresh asphalt, orchestrating a seamless metamorphosis. Lean on our comprehensive experience as we construct immaculate parking lots executed with precision, efficiency, and fortified security.
Together, let's create the infrastructure that supports and enhances your property while ensuring long-lasting durability and sophisticated design for years to come. Reach out to our team today to learn more about our premium concrete solutions and embark on a transformative journey for your space!
Seize this opportunity – claim your complimentary, no-obligation on-site visit and estimate today! Get in touch with us so we can commence crafting the ultimate living or working spaces you've always dreamt of.
In summary, navigating through countless decisions involving design aesthetics, material choices, installation methods or repair techniques shouldn't be overwhelming—especially when you have a dependable partner like us at "Springfield Concrete Contractor" by your side throughout every step along this fascinating journey transforming dreams into stunning realities! Don't wait any longer—give us a call today so we can embark together towards achieving shared goals culminating in rewarding completion celebrating architectural ingenuity blended seamlessly with extraordinary personal visions you'll cherish for years to come.
Free On-Site Visit from Our Awesome Team: